We are proud to have served local homes and businesses for over 25 years. Whether you're a homeowner, opening a new business facility, or have a plumbing emergency, you can ALWAYS count on us for reliable service and expert advice. With decades of combined plumbing knowledge, we know the ins and outs of our customers' homes and businesses.
Some of the many areas we serve include
Athens
Winder
Loganville
Statham
Dacula
Auburn
Watkinsville
Monroe
Jefferson
Arcade
Hoschton
Braselton
Good Hope
Bishop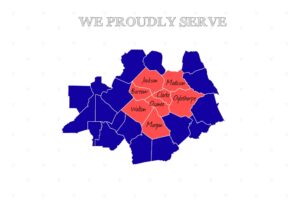 We Understand the Needs of Your Property
T & S Plumbing Services. is fully licensed, insured, and bonded in Georgia.
Historic homes are common in Winder and Athens neighborhoods. Older homes in these areas often have cast iron waste stacks, cast iron sewer laterals, and water lines made of galvanized steel or lead. These plumbing systems typically require maintenance or replacement after about 75 years.
Replacement of worn, outdated fixtures is also a common plumbing need in older houses. Renovations and remodels may require extensive plumbing work and specialized knowledge. At T & S Plumbing, we are experts in old-home plumbing and understand the intricacies of our local historic homes.
Common Plumbing Issues We Handle
Homes built with builder-grade fixtures that tend to wear out quickly and may require replacement or repair after just a few years. Other common plumbing issues include household leaks, clogged pipes, hose bib repair, tub and shower cartridge replacement, and water heater replacement.