Deron Lee – Owner
Meet Deron, the owner of T & S Plumbing.
Deron started with T & S in the mid '90s and purchased the company in 2006. He is a lifelong resident of Barrow County, graduated from WBHS, and then attended ABAC in Tifton. Deron is a licensed Master Plumber and plans and manages all projects and day-to-day operations. Deron runs his company with a single motto in mind "Treat all customers just like you would want your family treated, Every customer, every call, matters."
Outside of T & S Deron enjoys the outdoors, time with his wife, Charity and his four-legged best friend, Bunk.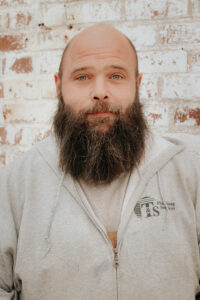 John Ragusa – Plumber
Meet John, a Licensed Master Plumber who joined our team in 2016.
Working alongside Deron he primarily focuses on satisfying the plumbing needs of commercial businesses in Barrow County and surrounding areas. John commits to completing jobs in a timely and professional manner.
John is a loving husband and a father of 7 children and enjoys staring as an extra in movies.
Garrett Cox – Plumber
Meet Garrett, one of our outstanding Residential Technicians.
Garrett has 5 years of experience in the industry and is primarily dispatched for our residential customers. He prides himself on making sure that every customer is treated like family and every job is completed to his highest standards.
Garrett enjoys relaxing with his family and working on cars.

Chase Kohler – Plumbing Tech
Meet Chase, the newest member of our team
He works along side Jon in both commercial and residential jobs. Chase is extremely detailed with his work and has superior customer service skills.
In his spare time, chase enjoys family time with his wife and playing video games.
Breanna Fugett – Office Manager
Breanna has 6 years in office administration and customer care. Before joining the T&S team she spent majority of her professional career in the medical field as an office assistant.
Breanna enjoys spending time with her family and her two dogs.
In addition to providing excellent plumbing services, T&S is proud to be a Partner In Education of Barrow County Schools, a member of Athens-Clarke County and Barrow County Chambers of Commerce, a sponsor of YoungLife, YMCA  of Georgia's Piedmont and several local youth athletic programs.