Residential and Commercial Kitchen Repairs
Install gas stoves and connections
Convert gas lines
Install water lines
Install dishwashers
Install and repair garbage disposals
Install faucets
Fix leaky faucets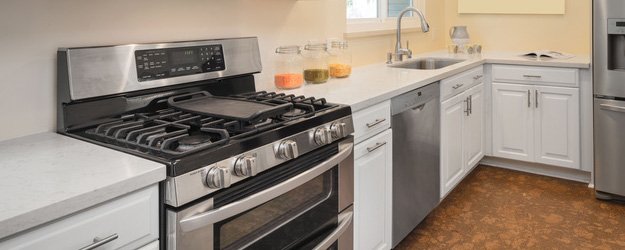 Make Your Kitchen Functional Again
Do you need a new stove or dishwasher installed? Do you want to replace an old faucet, but need some help? If so, T&S Plumbing Services is here for you. We can handle a wide variety of kitchen installation and repairs for all size kitchens.
Kitchens are the heart of the home, and you should enjoy every moment you spend in them. If your kitchen is in need of updating, we're here to help. We have been serving the area since 1996 and will work hard to give you the professional results you're looking to get.
For your convenience, T&S Plumbing Services handles all your commercial plumbing needs as well. You can rely on us for commercial kitchens, break rooms, coffee maker line installations, floor drains and more.
If you are having problems with your garbage disposal, your sink, or your dishwasher, we are here to help. Our kitchen plumbing services will make sure that your kitchen equipment is running well. We can do a full-service diagnostic to find problems before they become apparent to the naked eye. We offer the best kitchen plumbing repair in Winder, Athens GA and all surrounding areas.
Contact us when you need emergency plumbing services. We will get your kitchen plumbing up to standards, and you can have the peace of mind that comes with knowing that your sink and other kitchen plumbing needs are taken care of.