Outdoor kitchens are becoming increasingly popular. They range from simple grill-and-island setups to luxurious entertaining areas. No matter what style you're going for, a working sink is a great addition that will make food prep, cleanup, and outdoor entertaining more convenient than ever. Contact us to get a free estimate for your outdoor kitchen plumbing and sink installation.
Outdoor Kitchen Options and Features
Outdoor kitchens offer tons of possibilities for outdoor cooking and dining. Here's a rundown of some basic components you may want to include:
Kitchen island (with or without seating)
Cabinets and drawers
Ice basin
Built-in grill and/or smoker
Brick oven
Outdoor cook stove
Outdoor dishwasher
And, of course, an outdoor sink with hot and cold water!
How Do You Protect Your Outdoor Kitchen from the Weather
Our outdoor kitchen experts always suggest ensure you routinely clean your outdoor kitchen after each use and turn it off when not in use. Additionally, you may want to consider shutting off water lines that pair with plumbing system from the home in preparation for winter. Having covers and protecting cabinets is also important to help preserve the quality and performance of outdoor kitchen
Need help with other aspects of your project besides plumbing and sink installation? Let us know. We're happy to recommend reliable local contractors who can help create your ideal outdoor kitchen.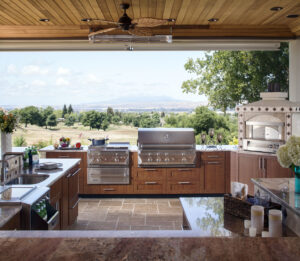 Be sure to install plumbing that can be drained in the fall, before the first freeze hits. It's also important to have water shutoffs that are located inside the house. If your outdoor sink runs both hot and cold water (you may choose to run just cold water), the entire length of the pipe needs to be properly insulated. Additionally, all underground water lines must be installed below the frost line. And all plumbing materials must be suited for outdoor use.