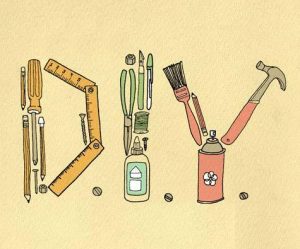 Being quarantined for an indefinite timespan comes with its obvious challenges, but it also comes with certain opportunities. One such opportunity is home improvement. After all, if you're stuck at home and you have a little extra time on your hands, why not take steps to improve the appeal and function of your living space? That's why we've put together a list of five home projects to consider—some that are easy DIY improvements and some that might call for a bit more skill and expertise.
Before we begin, however, it's important to discuss one very important matter: financing. Even the smallest DIY projects will require money, and the bigger the project, the more cash you'll need to spend. If you have your eye on a sizable remodel/renovation but don't have that kind of money in the bank, there are a few options worth exploring. For example, many homeowners opt for cash-out refinancing, which essentially replaces your current mortgage with a new, bigger loan. The difference between the two is then "cashed out," giving you money to cover your remodel. PennyMac has an excellent guide on this subject if you'd like to know more. However, it's important to remember that this is not the only option available to you, and it may not be the best solution for everyone.
Now, with that out of the way, let's talk about the types of projects you can tackle!
1. Creating a Home Office
Whether you are teleworking temporarily because of the pandemic or you work from home frequently and simply need to improve your work environment, creating a home office can do wonders for fostering productivity. And you don't really need to put a ton of money or effort into making an adequate workspace. A spare room, walk-in closet, or a comfortable space in your basement are perfect spots to set up shop so that you can work with minimal distractions.
Choose a location in the home that will help you to separate work-life balance, and make a few changes to convert it into a private workspace. These changes might include painting, adding plants and other decorations, putting in adequate lighting and furniture, and so on. And of course, be sure to include any equipment you need in order to do your job sufficiently.
2. Painting the Kitchen Cabinets
If your kitchen needs to be revitalized, painting the cabinets is one of the most effective projects you can tackle by yourself. It's not always an easy or speedy task, but it can be really fun and rewarding once you're done. If you've never done it before, learn about the steps involved, including removing the hardware, stripping the cabinets down, sanding, painting, and re-assembling with new hardware.
3. Refreshing the Bathroom
Showing your bathroom some TLC will make your living environment more comfortable, and as Redfin notes it'll also add resale value to your home. Consider replacing the hardware on your shower, bathtub, and sink, as well as adding a new toilet paper holder, towel bars, mirror, and/or light fixtures. Then, check to see if you need to recaulk around the sink and shower/bathtub, and look for any other areas that could use attention (e.g., walls, shower tile, toilet seat, etc.). However, keep in mind that if you encounter any plumbing issues while freshening up your bathroom, you should definitely leave these problems to the pros.
4. Replacing the Windows
Just as AHT Wisconsin Windows explains, old windows can lead to expensive utility bills and cause unnecessary stress on your HVAC system, not to mention they can compromise the security of your home. If your windows are no longer efficiently serving their purpose, consider investing in new ones. Having double-pane windows installed by a professional will help to keep your home well-sealed and secure, and it can also help to draw in potential buyers if you ever want to sell. Just make sure you apply social distancing during installation.
5. Improving the Exterior
Finally, you don't want to leave the exterior of your home hanging! Check for any damage to your siding, roof, and gutters that needs to be repaired. If the damage exceeds your expertise or abilities, be sure to call a local professional.
Also, make sure your lawn is well-maintained, trim any overgrown tree limbs and shrubs, and consider adding some plant life around your property. If your front door, mailbox, and/or house numbers could use some refreshing, those are all projects that are relatively simple to DIY.
You can make the most of being quarantined by seizing the opportunity to improve your home. Creating a home office, refreshing the kitchen cabinets, updating the bathroom, replacing the windows, and showing the exterior some love are all projects worth considering. And if you ever want to sell your home, most of these improvements will appeal to potential buyers.